There have been discussions on car weight relationships in HO scale. Since I see about 100 cars a month, I decided to record the as received weight data. This should be close to the original weight with upgraded wheels.
The requirements I placed on this examination are as follows:
1. Cars are all as I received them, with the exception of wheels.
2. Cars all have metal wheels, newer models had them to begin with, and older models had their wheels upgraded.
3. Cars are in the near manufactured condition. No accounting was made for rust or the absence of minor parts or details.
The results of this examination are shown in the following figure. There are over 100 cars measured to date. As time goes by, more will be added.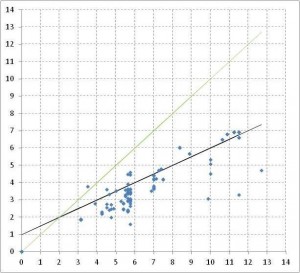 The y axis is ounces and the x axis is inches.
The cars in the near proximity to the NMRA line (dark blue) are mostly later vintage. One or two are older all metal cars.
The long light cars tend to be flat cars or Rivarossi passenger cars.
The second line on the chart is an once per inch trend that has some support in various discussions.