This post compares the performance of the Rapido Amtrak F40PH with the three other recently released engines and the data base of engines. The data base spans release dates from the 1950's to the present day. The four focused engines are all 2014 or later releases.
Shop now for an Athearn high performance worm gear
The engines test compared here are as follows:
1. Rapido Grand Canyon FP4-A #6773
2. Kato Amtrak P42 #145
3. Bowser SP&S C-636 #341- fuel tank and trucks updated to the best configuration
4. Intermountain Santa Fe SD40-2 #5085
All of these engines were new out of the box for these tests. The Rapido, Kato and Bowser engines are DC ready without any significant electronic module in the power circuit. The Intermountain engine is a no sound version with an EMU pilot DCC decoder installed. This module on board makes this engine stand out from the others, as can be seen in the data presented. More about, the impact of modules on engine performance in general is being examined and will be discussed in subsequent posts.
These engines have been randomly acquired from different sellers. There has been no prior examination to bias the selection. Except for the Kato engine there have been no other products by these manufactures examined in this test environment. Because of this no statement on how these engines compare to the average of their individual product line can be made or implied. The comparisons can only be drawn between these particular engines.
Shop now for Bachmann sitting figures
At this time it assumed that these are representative of the product types, but no further tests will be intentionally performed to verify that to be the case.
The Rapido Grand Canyon FP4-A engine is shown in the following figure: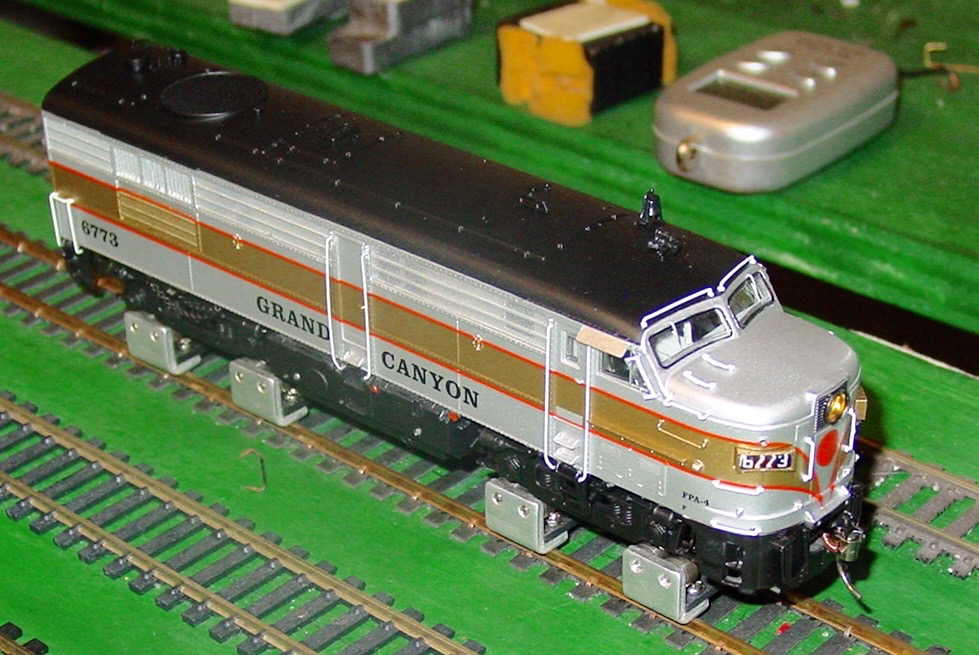 This discussion is available a detailed download for $0.50 here.

Shop now for new Athearn screw motor mounts
Thanks for looking.